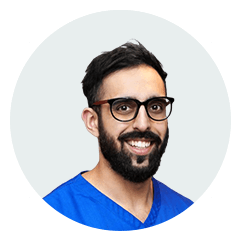 BDS, DClinDent (Orth), MOrth RCSEng, CILT, FDS (Orth) RCSEng, AFHEA
GDC No. 210143
Ahmed is a Consultant Orthodontist at The Royal London Hospital and Queens Hospital, Essex, where he is also the Clinical Lead. His unique skillset allows him to treat complex cases. Apart from routine orthodontic treatment for children and adults, his special interests include the management of facial deformity cases (orthognathic), the use of Temporary Anchorage Devices (TADs), and Invisalign.
After qualification, Ahmed attained a Doctoral Degree in Clinical Dentistry in Orthodontics in 2018. He is on the GDC's specialist dental register and was awarded the highest Orthodontic qualification, the Intercollegiate Specialty Fellowship Examination, jointly awarded by all three Royal Colleges of England and Scotland.
He is dedicated to continuous learning and staying at the forefront of the field. As a Clinical Lecturer at Queen Mary's University of London and an Associate Fellow of the Higher Education Academy, he actively contributes to teaching and examining. He is a published author of multiple articles in peer-reviewed journals.
Ahmed's expertise and commitment to transforming smiles have made him a trusted choice for individuals with complex orthodontic needs. His passion lies in delivering innovative and patient-centred care, and he has established his work to combine cutting-edge technology with personalised treatments. He has ensured accurate and efficient treatment for patients by integrating a fully digital workflow, including the option for remote monitoring.